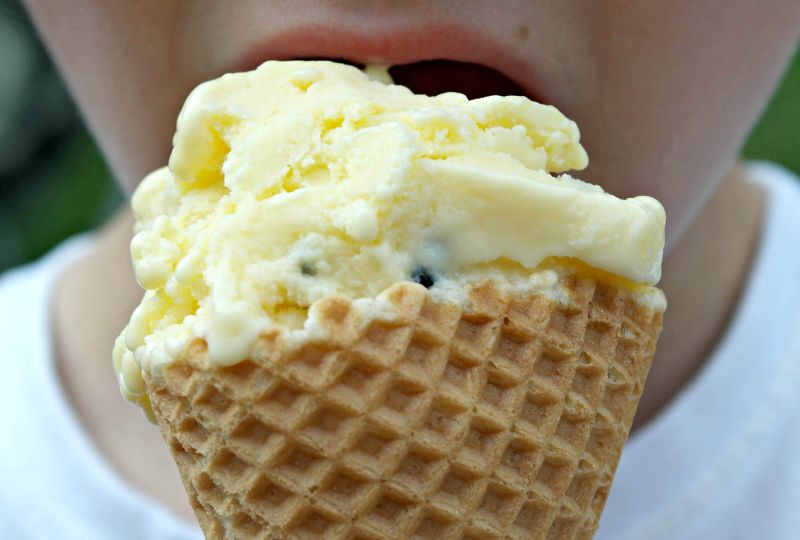 How good does that look? That, my friends, is passion fruit ice cream, made in our new Sage by Heston Blumenthal ice-cream maker. Stuff of dreams, right? Now, imagine if every bite had a small chunk of white chocolate to go with the tang of all that passion fruit. I can see you nodding, so here you go…
If you love a good gadget read how our family pizza nights have become legendary since we got the brilliant Roccbox pizza oven
Passion fruit and white chocolate ice cream
We're reviewing the Sage by Heston Blumenthal Smart Scoop ice-cream maker this summer. It is a Lamborghini of a machine – large, shiny, does all the work for you and plays a retro tune at the end. It is so so shiny and impressive that I imagine it could tackle any one of my 'beat it several times in and out of the freezer' recipes and improve on them; but out of respect we chose to start with one of Sage's own recipes, the passion fruit gelato. I just couldn't resist the white chocolate…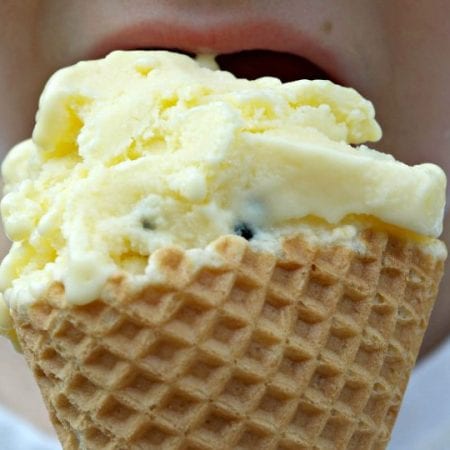 Passion Fruit White Chocolate Ice-cream
Ingredients
500

ml

whole milk

125

ml

whipping cream

½

tsp

vanilla extract

5

egg yolks

110

g

caster sugar

2-3

passion fruit

100

g

white chocolate

cut into small chunks
Instructions
Heat milk, cream and vanilla in a heavy-based saucepan until at simmering point

Beat egg yolks with sugar until pale and thick

Slowly whisk hot milk mixture into the egg mix

Clean the saucpan and return mixture to the heat, stirring constantly until thickened to a custard

Pour custard into a heatproof bowl, cover and chill until cold

Mix the custard with the passion fruit pulp and chocolate chunks, then pour into an ice-cream maker to churn until desired consistency is met.
How difficult is homemade passion fruit ice cream?
Now I am a decent custard-maker, but somehow I managed to add the sugar to the heating milk, rather than the eggs. I decided to try and salvage things by cooling the milk before adding it to the eggs, so as not to end up with a scrambled mess. Then I reheated the whole lot to make the custard. It wasn't perfect, and it certainly wouldn't have passed for custard, but I'd made it, so I churned it. And my lovely shiny ice-cream maker saved the day. You would never have known. I blame the excitement of the chocolate.
Probably one of my saving graces was the Smart Scoop's choice of automatic hardness settings. This recipe was set for gelato, so we got a nice soft creamy ice-cream, brought to exactly the right temperature automatically, without the need for constant checking. The machine will also keep your ice-cream at the perfect temperature for three hours once it's ready. So I could put a mix on while I'm making the school lunches, and it would be ready and waiting for me when I'd finished the school run. Ahem.
Said custard disaster means I cannot show you the video of us making the ice-cream, complete with retro 'ice-cream ready' jingle. Which means I'll just have to make another recipe soon. I'm thinking pink grapefruit sorbet next. Or maybe salted caramel ice-cream…
THANK YOU FOR READING
If you've enjoyed this post and found it useful here are some ways you can say thanks and support Actually Mummy:
Click here to buy me a virtual coffee.
Join our Teenage Kicks Facebook group which includes lots of advice and support for parents of teenagers. You can post your own problems and advice here too.
Click here to leave a review of the Teenage Kicks podcast.
Click here to sign up to our newsletter packed with tips, ideas and support for parents of teens.
Share this post with your friends.
The Sage by Heston Blumenthal Smart Scoop was sent to us for review. It retails at £349.99 (2015 prices).