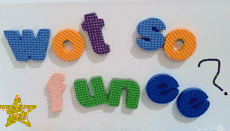 As you know, I have the best intentions to write intelligent, informative prose. All too often my efforts result in laughs from the adults around me. However, Mummy did a double take at one of my recent school efforts which, although funny, she thought was rather clever. Read on for a riddle by me…
Do not scroll down yet!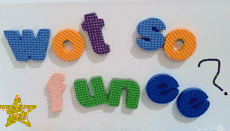 I want you to give this your best effort before you skip to the bottom, where you will find the entire masterpiece, complete with answer. In the meantime, as you wrestle with your grey cells, you can grab my badge from the bottom of the page, and click the link below to enter your post – I can't wait to see what you have! If you're new here you can check out the Wot So Funee? main page for more info.