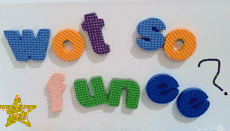 Oh memes, and tags, and spread the word posts. Don't you just hate them? How at first glance you think, "yeah, so not doing that one." But you linger just a little bit longer, long enough to smile at the blogger offering herself up to your derision, long enough to think, "actually, that's funny; that would only take me a couple of minutes, surely?" And BAM! Just like that, you're hooked, linking yourself up, tagging another blogger, offering yourself up for their derision…
This happened to Mummy yesterday; she tried to resist the offer from Kate to show the world how her children see her, exited Twitter and got on with making the tea. But it kept nagging away at her, and suddenly she caved:
"Bug? Will you draw a picture of Mummy…?"
It's not bad, colourful dress, very long arms, handbag, stick legs, and hair like Rapunzel in a tumble-dryer. I couldn't resist giving it a few captions though. And with a "big smile" guess what Mummy did next? She tagged WallyMummy, of course 😉
The original How my Children see me meme was started by Sticky Fingers. Mummy's planning her revenge…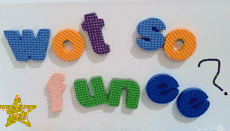 Now, if you have your own post to link this week, grab the badge code from the sidebar, and click the link below to enter your post – I can't wait to see what you have! If you're new here you can check out the Wot So Funee? main page for more info.