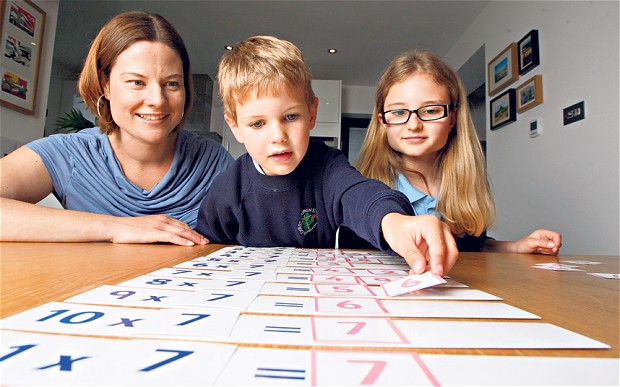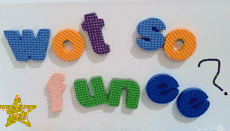 I'm doing ok with my times tables. Mummy comes in to test my class on their progress, so she knows that compared to the rest of my class I'm doing well. I know my 2/3/4/5/9/10/11 tables by rote, by random question, and by division question, so it's all good. However, my best friend has completed every single one of her times tables challenges, and received 25 house points to boot. I find this unacceptable, and so I'm adamant that my goal on return to school in a week's time is to nail those pesky stragglers 6/7/8 and 12. Thing is, I don't get excited about maths, and would rather be creating the world's next outrageous invention than asking for help with times tables.
So Mummy has been trying to incentivise me, and dreaming up ruses to make me practice. One such ploy is to use any bit of down time to make me recite my times tables. Usually this means barking an order at me in the back of the car as she drives to the supermarket/chip shop/park. (She makes the Bug practice his number bonds at the same time). But she recently overstepped the mark, asking me to recite my 5's whilst waiting for my meal at a lovely restaurant. This is how I repaid her:
What? I was relaxing!
Tips to help kids with their times tables
Here are some things we've found that do work. Times tables are all about repetition. I need to be able to recall any given multiplication sum off the top of my head, and the only way I'm going to do that is by really drilling it:
Have a visual of whichever table you're working on pinned up in your room. Better still, somewhere specific where you spend time every day. My 5 times table is currently blu-tacked to the bathroom mirror – I have to run through it in my head as I brush my teeth.
Say it out loud as you're walking up the  stairs – each step is another multiplication.Luckily we have 12 steps!
Donna, from Little Lilypad Co suggests making the table into a song or rhyme to make it more fun – even better if children can make up their own rhyme.
There are lots of number based games that can help. We have Cupcake Dice and Dude Dice from ZooBooKoo. These are a cute set of dice games that Mummy carries in her bag, to play whenever we have a spare moment. It's good sum practice as well as multiplication, and we're distracted by the fact that it's a game. Emma, from Mummy Mummy Mum also suggests Yahtzee for fun number practice.
The car seems to be a favourite place for practice – Becky from Baby Budgeting plays one of the many CD's available to help whilst in the car, as well as using multiplication in everyday life, for example, while sharing out crackers or counting out money.
Teachers swear by making it fun. Karen from Bizzy Mum recommends the Terrific Times Tables book to make it all more fun, whilst Kirsty from Damson Lane says her kids would have played all day on Mathletics, a paid-for, but brilliant app to engage children in healthy competition.
Kelly from Domestic Goddesque says that visual aids help make it easier for her children to take the painful tables on board, "I cut out pairs of socks for twos, hands for fives etc, and we have them up in the kitchen where they can see them." 
Cheat! Joy from Pink Oddy points out that there are lots of little tricks for added confidence when learning times tables. Like with tens it's just adding a 0 on the number; with nines it's up 1 ten, down 1 unit etc.
Finally, Chloe from Cookie Jar Life points out that there are lots of times tables videos on You Tube that give some great ideas and tips for kids who are struggling. Sheesh! I don't know why I'm even complaining! Mummy says none of this stuff was around in her day. No wonder she has to use a crib sheet when she's testing my classmates 😉
Do you have any good tips to help with times tables? As you can see, I need a bit of practice on my 5's… 😉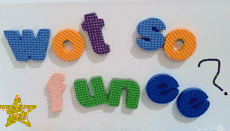 Now, if you have your own post to link this week, grab the badge code from the sidebar, and click the link below to enter your post – I can't wait to see what you have! It's not obligatory, but if you include a link back here in your own post, I'll return the favour with a tweet-out. If you're new here you can check out the Wot So Funee? main page for more info.