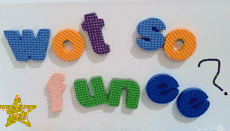 I have been around Mums for long enough now to know that gin (and sometimes wine) is a hot topic of conversation. Mummy is more likely to be found sipping sauvignon, but Friday is Gin night, the start of the weekend, and the first sound of Daddy's key in the door sees ice-cubes hurtling out of the mega-fridge and the Bombay Sapphire separated from it's sticky mates Cointreau and DiSaronno. There is a saying that Gin is Mother's Ruin, but I think it is for different reasons that Mummy came a cropper with it recently…
Supermarkets are places the Bug and I rarely get to see, due to our tendency to disappear down the toy aisles and spend the trip whining about needing "yet another bit of useless plastic." But pressed for time last week with the Bug in tow, she shoe-horned him into a trolley (he is 5, I'd say that is child-cruelty) and whizzed round the veg section, pausing to grab him a box of cherry tomatoes to snack on (more child-cruelty). Consulting her list she reeled off her requirements:
M: We need ham… 
Bug: For Daddy's sandwiches, and we need biscuits…
M: Ryvitas…
Bug: For Mummy's diet….. Don't forget we need biscuits…
M: Orange juice…
Bug: For GG, I hate orange…. What about the biscuits?
M: … and tonic.
Bug: For Mummy's Gin.
M: Yes, erm, lets get some biscuits now.
Bug: No, we need to get the tonic, or you won't be able to have your Gin Mummy. Where's the Gin? Giiiiiiinnnn? Where are you??? Mummy needs you!!!!!
There were a few raised eyebrows, and a couple of stifled giggles, as mothers everywhere kept their heads down in silent sympathy.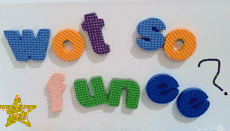 Now, if you have your own post to link this week, grab the badge code from the bottom of the page, and click the link below to enter your post – I can't wait to see what you have! If you're new here you can check out the Wot So Funee? main page for more info.