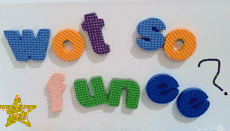 The year 2 topic in my brother's class at the moment is extreme weather – ice storms, volcanoes, rainforests, etc. He is taking part in an assembly this week to showcase what he has learned so far. I'm really hoping they rehearse him before the big event, because here are 2 nuggets of information he gave me over the weekend:
Hailstones are like ice-pops. (Yeah, in a weird alternate universe where Vanellope von Schweetz really is Queen).
You get piranhas on Amazon.
Now, I know everyone's worried about world domination at the hands of the e-commerce giant, but I don't think there's much chance of of a hungry fish turning up in a brown package anytime soon. I could be wrong, I'm only 9, but I'm not going to start running checks on the bathwater just yet.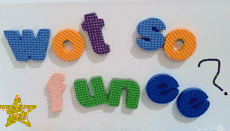 Now, if you have your own post to link this week, grab the badge code from the sidebar, and click the link below to enter your post – I can't wait to see what you have! It's not obligatory, but if you include a link back here in your own post, I'll return the favour with a tweet-out. If you're new here you can check out the Wot So Funee? main page for more info.