Twenty hour queues to Dover. Holidaymakers camping out like waifs and strays on airport benches. The car park of the M25, M4, and M6 as Summer starts. Motorway logjams from the moment the schools finish, until well into the following week, when seemingly 75% of Brits have finally made it to their holiday destinations. Travelling anywhere in the UK by car in the school holidays is always fraught with stress and boredom.
Take the train instead!
Last weekend we took a trip to Liverpool. We had a rare free day as a family, and fancied something different to our usual haunts. We considered staying the night to give us more time, but we had things planned for the Sunday, and decided we needed to get back. We were slightly concerned that a day trip 200 miles away from home might feel a bit rushed, too jam-packed to be enjoyable. But we booked ourselves onto a train that does the journey in just over two hours, packed a picnic, and planned our day carefully to make sure we didn't overstretch ourselves. We had a great day out at Liverpool's Albert Dock, just a short walk from Liverpool Lime Street station, had plenty of time to do what we'd planned, and more, and were back home by 10.30pm with a lot of happy memories to dream about. Here's how our day went.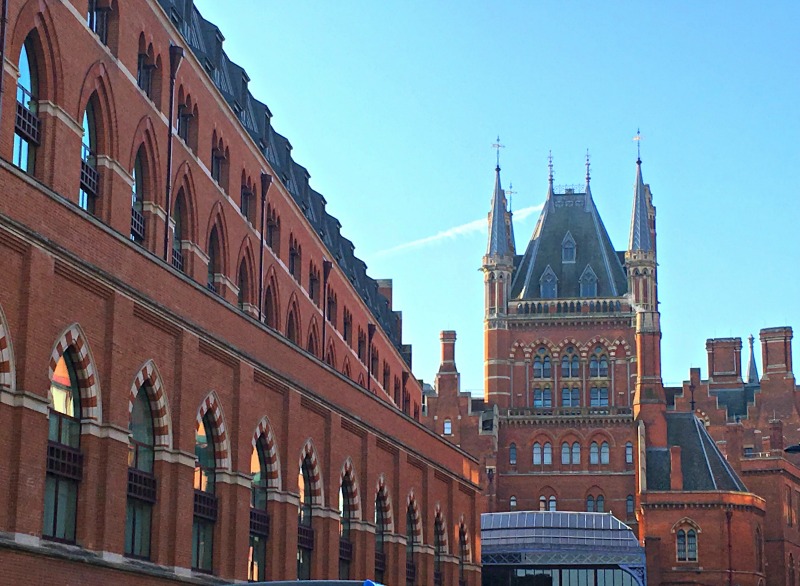 Virgin Train journey
We'd packed a picnic breakfast to have on our way to Euston – the kids always love an excuse for a hot chocolate at the station first thing in the morning – and excitement kicked in for a sunny day out. The outbound journey is fixed on the family ticket offer but the return is flexible which meant that we could travel on any train. We made it, but it was nice knowing that if we'd missed it we could just have a mooch round the cafés and shops until the next departure. That said, I'd recommend seat reservations; there's no charge, and it guarantees you'll be seated together as a family, probably round a table – more on why that's a good idea later.
The first thing my daughter did was log onto the train's Wifi. She'd downloaded the Virgin BEAM app the day before, and was eager to see what films she could watch on the journey. At two hours, the trip from London to Liverpool was perfect for a film, so that was her sorted and quiet for the rest of the trip. Though not before she'd made a foray to the buffet car to order a very passable bacon roll for a second breakfast!
The Bug also had the app, and was quick to get stuck into some of the games on there, so he too was busy too, while Actually Daddy and I pored over maps and planned the day together. Then there was time for a game of virtual Monopoly for the boys, while I chilled out with my book.
Liverpool's Albert Dock
We were happily installed in a coffee shop with a great view by 11am, and ready to get started on a full day of family fun. The Albert Dock is a fabulous day out for families, with some great museums, quirky little shops, kayaks on the dock, and loads of holiday activities running just for the summer. The kids had a ball at the roller rink, and spent an age poring over smuggled contraband at the Maritime Museum's Seized! exhibition. We had time for a leisurely lunch at Panam, overlooking the dock, and then took a trip on the Echo Wheel to get a bird's eye view of the city.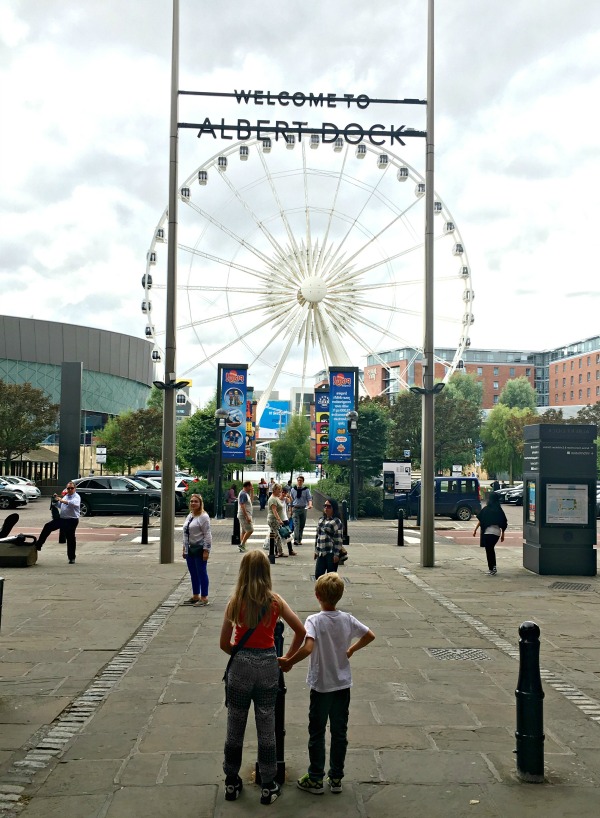 And when we'd finished with the dock's diversions we enjoyed a stroll along the banks of the river Mersey, looking at the ships, cruise liners, and views over to Birkenhead. There are pop-up bars and fairground rides there too, making the Liverpool Docks a really full day out, without too much walking between attractions – perfect for families.
The train home
Coming home on the train was even more chilled out than the morning's journey. There are lots of food outlets at Liverpool Lime Street station, so we chose ourselves some treats for tea, and got settled around a table for four. We bought some wine from the buffet car, and our meal felt like quite a party as we relived the fun of the day and compared photos on our phones (check out Actually Daddy on roller skates)!
Then we got stuck into a card game with so much gusto that fellow passengers joined us in making up hilarious headlines from our words. If you've never played Man Bites Dog, I totally recommend it. We were in Euston before we knew it, having shared more productive time together than we have in a long time!
What we loved about the train:
The BEAM app, which kept the kids entertained for a good while
The speed: London to Liverpool would have taken us at least an hour longer in the car, and that's before we'd spent time looking for (and paying for) appropriate parking
Being able to consult maps and make plans with my husband in a calm manner, rather than the frenzied I SAID LEFT! fashion that normally ensues when we're travelling together in the car!
Enjoying the journey together as a family, playing games, eating a meal, and just generally hanging out together; it felt like productive time, rather than simply a means of getting to our destination
The Virgin Trains Family Ticket offer means that a family of any size up to 2 adults and 4 children can travel anywhere on the West Coast Mainland, as long as you start or end at London Euston. A one off standard payment covers the whole family, and is fully flexible on your return – so if you miss your train, you just hop on the next one!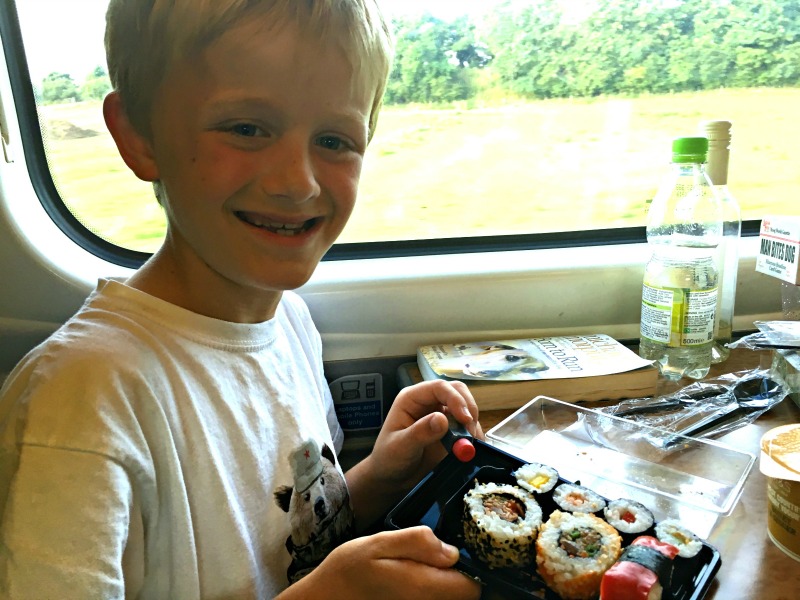 What we might have improved on:
The food – obviously food on any kind of public transport is going to be basic, but it was certainly passable, and I did enjoy a nicely chilled prosecco on the way home with my M&S picnic treats
I will definitely remember to pre-reserve our seats. We did this on the way back and had a table for four where we could spread out together and enjoy a card game, as well as sharing our meals. It also meant that the kids could watch a film on the iPad together on the BEAM app, without us needing to sign up for another Wifi code.
I think we'll be taking the train again. It certainly felt like the best way to travel for a city day out. We might try Manchester next time; what can you recommend for families to do there?
*Disclosure: I have been compensated for my time in reviewing the Virgin Train experience. All opinion, editorial, and imagery is my own.