Short and sweet for us this week, but here's one from The Bug:
I'm delighted to confirm that I have moved up 3 book levels in my first half term of Year 2 at school. I'm particularly taken with a book series about Big Barry Baker. I'm less keen on my mother's attempts to focus me on the wider issues in the text I'm reading. We recently read Big Barry Baker and the Bullies.
Two chapters, and I read them very well, thank you. Then begins the inquisition:
"Why do you think children become bullies?" She begins to quiz me. "They're all born sweet innocent babies, so what do you think happens to them to turn them into bullies?"
There's only one thing for it when she starts with this line of questioning. If she gets any kind of thoughtful response we'll be there all afternoon engaged in some kind of moral lecture. I shut it down as fast as possible:
"I don't know! I'm not an expert on bullies!!"
I may be six, but there's no flies on me.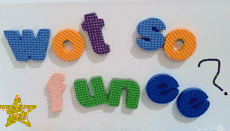 Now, if you have your own post to link this week, grab the badge code from the sidebar, and click the link below to enter your post – I can't wait to see what you have! It's not obligatory, but if you include a link back here in your own post, I'll return the favour with a tweet-out. If you're new here you can check out the Wot So Funee? main page for more info.