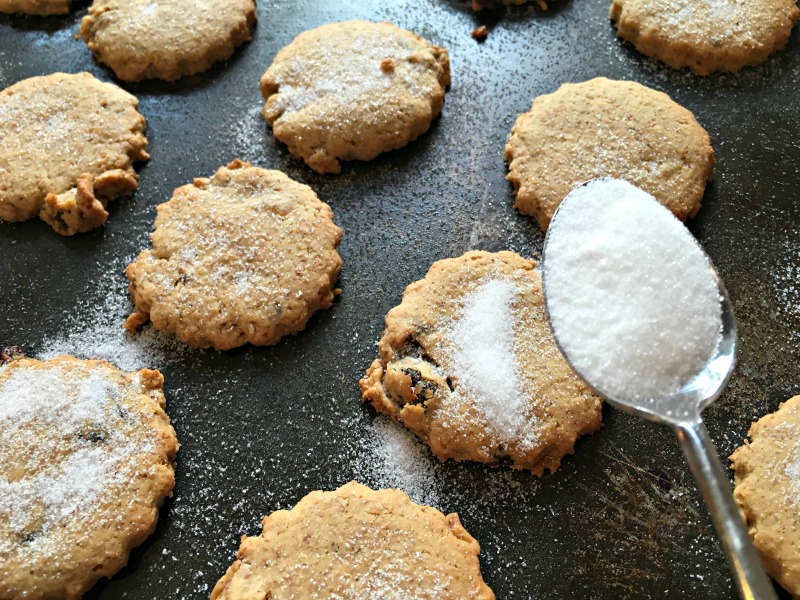 The story behind Easter Biscuits
Easter biscuits are as much a tradition in the UK as chocolate eggs and bunnies. More so, in fact. Actually, I still don't know why and when a large rabbit bearing gifts first upstaged Jesus on his big day. Imagine, you've waited thirty years to reveal the greatest miracle of all time, only to find everyone's busy in the bushes looking for chocolate! Anyway, the baking and gifting of Easter biscuits is traditionally done on Easter Sunday, much as Hot Cross Buns are typically only intended for Good Friday (although I won't tell anyone that you eat them for weeks before and after, if you don't).
Easter biscuits are simple and sweet, spicy and sugared, easy to make, and absolutely the etiquette to give if you've been invited for Sunday lunch. If you're being a real stickler for tradition, you'll want to add oil of Cassia to your recipe, but these are nice with just what you have in the cupboard.
Easy Easter Biscuits recipe
My kids love to bake. Any chance they get they're flipping through my recipe books and begging for time in the kitchen. Usually this ticks all my stress boxes, as I know I'll be called upon to clear up flour spills (what is it that prevents them from placing the packet close enough to the bowl??), advise on butter melting time in the microwave, and negotiate bickering over spoon-licks.
I'm also conscious that said spoon licking requires extra insulin, and calculating the carbs for my daughter's injection usually falls to me. So it was with double delight that I discovered this recipe for Easter Biscuits on the Diabetes UK website. Ready carb counted at 9g per biscuit, and with lots of healthier additions like wholemeal flour, they're also a doddle to make. I really did just leave the kids to it (although I still had to do the clearing up)!
Follow the instructions in the video, or click the link for the online recipe.
The use of rapeseed oil in place of the usual butter in a biscuit recipe makes these much healthier. Rapeseed has the lowest saturated fat content of any oil, is a great source of vitamin E which protects the skin, eyes and immune system, and has ten times as much Omega 3 as olive oil. It does have a distinctive flavour which I find overpowering at times, so I was concerned to see if the biscuits would pass the taste test with the kids. It totally did – GG had to take insulin for 3 biscuits!
Stevia was a great addition too, reducing the need for the usual amount of sugar, whilst preserving taste, and as a natural sweetener it's so much better for the kids than the chemical alternatives found in processed, shop-bought products.
The biscuits took around 10 minutes to make, and another 10 to bake – quick and simple. So there's your Good Friday baking activity sorted. You're welcome.
You can find more easy healthy family recipes on the Diabetes UK website.