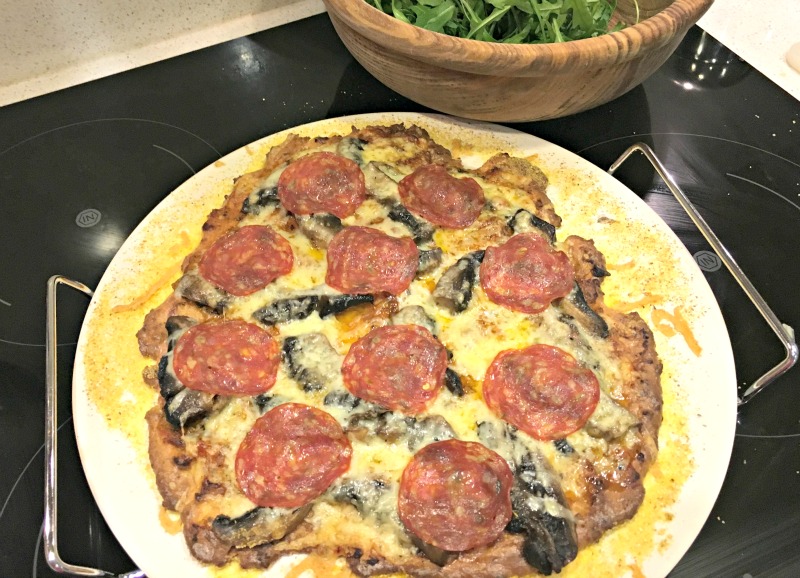 A low carb pizza has been the holy grail of my Saturday night menu planning for a long time now. Takeaway pizza (and even the shop-bought variety) has a tendency to wreak havoc with blood glucose levels when you're acting as your own pancreas and injecting insulin. (In fact, I have a strong suspicion that the insulin resistance of type 2 diabetes may have more to do with high fat, savoury junk food than with cans of Coke, but that's a rant for another day). So our Saturday night fix in front of the TV has suffered since type 1 arrived in our lives.
The Fathead – low carb pizza you'll love
But what is life without pizza? We do run the blood sugar gauntlet occasionally for the sake of a delicious post-swimming lesson treat, but when when a fellow pancreatically challenged parent, Kev told me about Fathead Pizza I was definitely going to give it a go. I googled the term, and came up with this fathead pizza recipe which works really well, but as with anything I've made my own changes. A pizza base made of cheese and almonds sounds weird, I know, but believe me, it tastes great, is super-quick to make, and has only 6g of carbs per quarter. When you make it you're going to find it a bit small, but actually, you won't want much more than a quarter anyway, as it's so filling. So you'll cut down on the amount of fat you eat compared to a normal takeaway stuffed crust meat feast too!
This really is a remarkably easy recipe, though you'll find it a little odd dealing with the dough. Don't panic, just follow the instructions, and it all works out well. Once you have a base that looks like this, simply add your favourite carb-free toppings, and bubble in the oven for a few more minutes.
Be brave. And enjoy!
If you'd like to try pizza on a pizza stone like ours, you can get the Savisto ceramic pizza stone for just £12.99, and it comes with a handy pizza cutter. We've loved having ours as it absorbs moisture from the pizza, making the base crispier. It looks great on the table too – just like a proper Italian! – and keeps the pizza hot for longer while you eat.

Perfect Low Carb Pizza Recipe
A low carb pizza recipe that really does tasted as good as the traditional thing
Author:
Actually Mummy...
Ingredients
150g grated mozzarella
130g ground almonds, or almond flour
tsp dried thyme or oregano
1 egg
garlic salt
paprika
2 tbsps dry polenta
half a small jar of pizza sauce
toppings of your choice - we like to use sliced up portobello mushrooms cooked in garlic butter, chorizo or pepperoni slices, mozzarella and a few basil leaves, black olives, or, love them or hate them, half a can of anchovies!
Instructions
Preheat your oven to 220 deg F, or 200 for fan ovens.
Microwave the mozzarella on full power in a microwaveable bowl for 1 minute 30 seconds, stirring every 30 seconds. The original recipe adds some cream cheese to this mix, and it does make the cheese smoother, but we've found that it also makes the dough quite wet, which will make it stick when you're cooking it.
Beat the egg, and stir into the melted cheese, with the almond flour or ground almonds, and the herbs. Stir until you have a dough.
The dough will be very sticky, so you'll need wet hands for the next part. Spread the dough onto your preferred baking surface. The original recipe prescribes baking paper underneath the dough, but we've found that it sticks badly and you end up eating a lot of paper! So we use a ceramic pizza stone, preheated in the oven. Sprinkle the dry polenta over the stone before spreading the dough on top. This helps avoid sticking, and adds a nice crispy crunch to the base of your cooked pizza.
Prick the base with a fork all over. This will prevent bubbles in the base as it cooks.
Sprinkle with garlic salt and a little paprika.
Bake your dough on its stone or baking sheet for around 12 minutes, or until it is golden brown and springy.
Spread the pizza sauce all over the dough, and top with the rest of your toppings.
Place back in the oven for around 5 more minutes, or as long as it takes to get your cheese golden and bubbling.