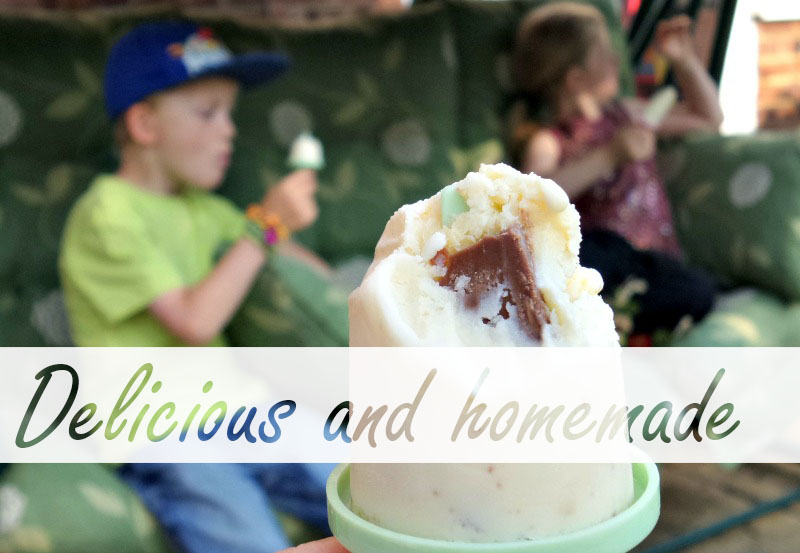 It really has been the most glorious summer so far. Being able to fling open the door each morning and let the kids play outside feels free and makes everything so much more relaxed during the school holidays. And what could be better on a hot afternoon than a homemade ice lolly?
We were challenged by Sykes Cottages to come up with our own recipe for ice lollies. So I set the kids to work on their favourite flavours. Crunchie bars and banana milkshake featured strongly. So here's how to make Crunchie Banana Cream Ice Lollies:
Apart from being delicious (I may have sneaked one after they were in bed), it was a fun way to spend an afternoon getting creative with the children. We may have to try a healthier, fruit-based version next time, like Emily's Strawberry and Banana Smoothie Lollies, but the sinful version was a complete treat on a hot day.
Crunchie banana cream homemade ice lollies
Crunchie Banana Cream Ice Lollies
Author:
Actually Mummy...
Ingredients
2 Crunchie bars
60g caster sugar
60 ml whole milk
3 tsp banana Nesquick
125ml sour cream
250ml double cream
Instructions
Break the Crunchies into small pieces in a small bowl
Stir together the sugar and 60ml water until dissolved
Mix the milk with the banana Nesquick
Stir in the sour cream, cream, and milk until combined
Gently stir in the Crunchie pieces
Pour into ice lolly moulds, add the sticks and freeze for at least 3 hours or overnight.
Hold the moulds briefly in hot water to loosen before removing to eat.
Sykes Cottages sent us an ice lolly mould, a recipe book, and a small shopping budget so we could devise our ice lolly recipe. The recipe, editorial, and opinion is our own.