This week's Wot so Funee? is being hosted by Donna at Little Lilypad Co.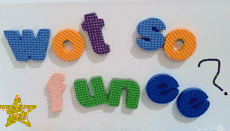 I'm going to see 1D soon. It's not my choice. Don't get me wrong, I'm fairly keen to see the Boy Wonders, but the most excited person in our house is Daddy. 3 hours he spent on the playroom floor back in October, refreshing the page. And it paid off, as he secured 4 tickets for Wembley Stadium. Half an hour later, the only tickets available were from resale sites, at 6 times the price he paid. But that's a story for another time.
Whilst gig tickets are cool, I'm actually far more excited about going to British Summer Time in Hyde Park. For two weekends in early July, the Royal Park will play host to a series of very cool bands, and we will be attending the Family Day on Sunday 13th. Featuring Boyzone, Little Mix, and Tom Jones, this is going to be an epic party. A party at which I will dance, picnic, and beg cupcakes, and listen to some of the best perform some of their best. Not just one band, but several. And if I get bored with music, there's Hello Kitty, The Mr Men, Shaun The Sheep, Horrible Histories and Go!Go!Go!  All on a day trip to London. Perfect!
We have tickets to the family day for a family of four to giveaway. Simply complete the options in the Rafflecopter widget below to be in with a chance of winning. For more information visit the British Summer Time website. Or check out the video below for last year's highlights.